Canoeing Florida - Winter 2002
By John Kobak
After our Ecuador trip, Peggy and I headed to FL with our 17' Mohawk canoe. Northern Florida has all sorts of great spring fed rivers that have abundant wildlife and other then weekends are very remote and isolated. I'll describe the many rivers, springs and estuaries that we paddled in our one month trip. First of all we actually started in GA just North of the FL border in the Okefenokee Swamp. Steven Foster State Park is on the Southwest part of the swamp. There are 20 canoeable miles of canals and lakes available for day trippers. You must make reservations for multiday trips. We saw Otters, alligators and lots of birds. At this time of year there are no insects of any kind, so it was very pleasant with High temps in the 60's. The swamp is the source of the Suwannee River which was our next paddling trip.
The water levels were very low so we started our float in White Springs, FL below Big & Little Shoals, supposedly the biggest rapids in FL. At this level it would have been a long carry. We paddled 15 Mi of the river. I took the RV to the takeout and had a nice 10 mi bike shuttle back to the put-in, threw the bike in the canoe and paddled back to RV. We really didn't care for the Suwannee River. There is no wildlife of any kind even though it was in a relatively natural area with little development. In previous years we tried two other sections of the Suwannee and found the lower river too large with power boat traffic. So all in all I would skip any part of this river in the future. There are much nicer rivers to paddle.
Our next paddle was on a great little 4 mi long river that is paddleable in both directions called the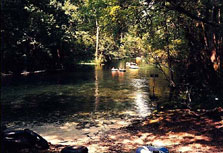 Ichetucknee Springs. It starts in a State Park and flows to the Santa Fe River. It is clear, clean water with lots of wildlife. One word of warning, never paddle this river in the summer and avoid weekends at anytime. In the summer they allow 4000 persons per day to float it in inner tubes and I understand it is a zoo. We saw just 3 other boats on our Thursday trip.
Some helpful links:
Description of Florida's Springs, Florida's Canoe Trails. Florida's State Parks
Central FL Kayak trips, Kayak & Canoeing in Florida
We stayed at O'Leno State Park which has the interesting Santa Fe River. It disappears into the ground and about 3 mi away at River Rise, the river suddenly reappears from underground, it is about 100 feet wide and flowing swiftly.

River Rise. The upper portion was too low to paddle and the lower has a nice 2 mi section within the park, but we skipped it and did some mtn. bike trail riding instead. Below High Springs it is a popular canoeable stream with lots of side springs. Because of its popularity we skipped it and headed further South to Rainbow Springs.
The Rainbow River is another short river that starts in a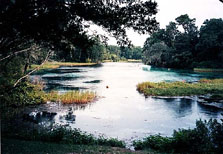 large spring and flows 5 miles to the Withlacoochee River which flows north to the Gulf. It is very popular with divers and snorkelers and has lots of homes along the banks. But being in a State Park it is protected and there is lots of wildlife. We did a few sections of the 47 mi long Withlacoochee State Park Bike Trail near Inverness and then a 7 mi section of the river which was slow enough to paddle in either direction upstream from Silver Lake. In previous years we paddled downstream from the lake. Both sections are in a State Forest and have lots of wildlife, the bike trail parallels most of the river below the Lake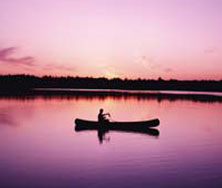 and can be used as a bike shuttle.
Then it was off for some beach time at Ft. Desoto Park on the southern end of St Petersburg. It is very popular and the campground is always full on weekends so we arrived on a Sunday morning when the weekenders leave. There was a large sea kayaking symposium going on and I got to try out a few sea kayaks in St. Pete's bay. We canoed the estuaries for the next few days saw Dolphins and Sting Rays. We then headed further South near Sarasota to Myakka River State Park.
We saw 42 alligators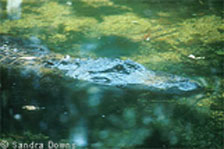 in the 6mi section that we paddled. Some were quite large and when 4-6 of them slipped into the water beneath our canoe at one time it was a little disconcerting, we then had to turn around and paddle back past all the same gators to finish our trip. Previous times we paddled from the main lake through a swampy area to the visitor center, this time we paddled the section below the visitor center. It was much wilder, no roads or people and totally within the protected park boundaries.
We spent most of the next week along the Okeechobee Intercoastal Waterway which is a big ditch with locks that allow large boats to cross from the East Coast to the West Coast. The Corp. of Engineers campgrounds near the locks were nice but hard to get in without advance reservations. We never get reservations anywhere but try to get to popular campgrounds early in the morning and by Thursday for any weekends. We found a nice creek off the waterway, Hickey's Creek, which winds its way through a populated area but is very remote feeling. We saw eagles, osprey, gator, otters and believe it or not a camel and a llama, or course they were on someone's estate.
There were supposed to be Manatee in the canal and creek but we didn't see any. Lake Okeechobee is supposed to be the second biggest Lake in the USA, I guess they don't consider the Great Lakes since they are half in Canada. It was too windy to consider paddling, if you were up to a long hike or bike the entire lake is surrounded by a dike which contains the Florida Trail which is at least 100 miles long along the lake.
We then got to the East coast near Hobe sound. Jonathan Dickinson State Park is a very large wilderness park that offers canoeing on the Loxahatchee River and Mtn. Biking on some very popular and challenging trails. The river is tidal water and allows power boats however the 6 mi round trip to Trapper Nelson's cabin is a worthwhile paddle. The "Wildman of the Loxahatchee" lived there for 30 years and lived off the land and tourists who happened by. It has been kept as he left it in the 1960's.
We finally headed to our old favorite part of the state, Ocala NF. Three great canoe trips are located here. We camped at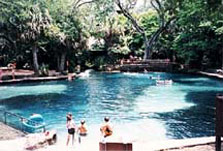 Juniper Springs, and paddled it, Alexander Springs and the Silver River. Juniper Run is a 7 mi paddle. It starts at the spring no wider then a canoe and moves with a good current through a very isolated area. The last two miles it broadens to a meandering swamp where gators and large birds were abundant. Try not to paddle this on a weekend as the canoe livery puts about 75 canoes down the river. You can pay for a shuttle from the livery or do a bike shuttle as I did.
Alexander Springs is even larger but is the reverse of Juniper. most rental boats paddle the slow upper section then return to the spring. We put in at the highway bridge downstream and paddled 7 mi to 552 landing which is a very easy to bike shuttle (5 mi). The river is like a maze and you keep feeling that you are going to pass the takeout while taking the wrong side of an island, but it turns out the river gets narrow right at the takeout which can't be missed. Primitive camping is allowed at the takeout. Lots of wildlife we even saw wild turkeys. We decided to paddle beyond the takeout for a few miles and return. This narrow section of the river dumps into the St John's River but we paddled back to the landing. It was totally different from the upper river.
According to Peggy we saved the best for last, Silver River. The famous Silver Springs flows down a large 4 mi long river to the Ocklawaha River. There is a small boat access just before the confluence. Be prepared for a vigorous upstream paddle as the river flows at 800 cfs but is very deep. It is so clear that you can see a penny on the 30' deep bottom. The 3 ft long catfish and gar are amazing. It took us 2 hrs to paddle up to the spring but only one hour back to the end, however you need to stay in the eddies while working your way upstream. They have recently opened a new state park near the river but have not provided any canoe access. There is a half mile trail to the river from the park and it is about 1 mi down from the spring. I guess if you had wheels for your boat it wouldn't be to bad. But the entire river is really worth the paddle. Lots of gators, turtles and birds, and supposedly there are monkeys left from the old Tarzan movies that they filmed here but we didn't see them.
So what's a whitewater guy like me doing on all this flatwater? It's scenic, the rivers are clean and it's a world away the the normal Florida visitors. Remember their slogan - Florida State Parks "The Real Florida".