80o F and Sunny
Police still searching for renegade kayaker
By John Kobak
Southern Trip Photo Album Click on any of the pictures in the story for a bigger photo
80 o and sunny was what I promised for this year's Southern Rivers Trip. When we got to Rock Creek Campground, our new place to camp since being run out of the Nolichucky River Campground last year, it was 84 o. My promise was short lived, a cold front blew in Thur. evening accompanied by a shower. The good thing was the Watauga would still be in its paddleable range. Chuck Singer agreed to lead the Noli trip on Friday with eleven paddlers while eight of us headed to give the Watauga a go.
Paul Lang and Bob Weible had run the Watauga two years ago, but neither could remember all the lines. Scott Debalski, Elliott Drysdale, Rob Hammond, Brent Laubaugh, Ron Whitney and I were a little apprehensive to say the least. We had been told if you don't know the lines, it could take up to 6 hours to run the 5-mile run. This river is like the Upper Yough but it is much steeper averaging over 100'/mi with two half mile stretches reaching over 200'/mi.
Lots of kayakers were gathering as the level was at an ideal 310 cfs. We met Lee Belknap and Jeff Prycl who would be leading a small group of TRPC paddlers. They agreed to give us some clues as to the best routes if we agreed to stay out of their way. This really helped a lot and we only needed to scout two rapids, Hydro and Stateline Falls. I walked them both, but Paul had nice lines in both. Weible, however, was a little off line at Hydro and swam above the big hydraulic, but he washed right on through. After Ron rescued Jeff Prycl at the bottom of Stateline he sprinted for the takeout. He should have watched out for rocks, he pitoned his Whip-it on a sharp rock and punched a small hole right through the bow.
While we were enjoying our run on the Watauga, Chuck & Judi, paddling her Shredder, led nine kayakers down the Nolichucky. (Bob Boyce, Mike Duvall, Jim Maruna, Kelly Miller, Bob Nicholson, Shelly Schmidt, Sue Strumbel, Ron Tomallo and Scott Wake.) Scott tried out Jaws at the 2200 cfs flow but had to swim out. It was cool and windy but everyone had a good time.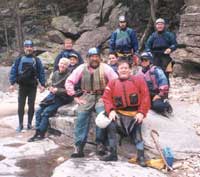 Keel Haulers Lunch on the Nolichucky.
The weather Fri night got even colder. Brent Laubaugh, Dave Broer, and Paul Lang decided to try the Doe River Gorge. None had run it before but it was just above its minimum level and they were anxious to bag a new river. The Doe starts out as a junkyard but then enters an isolated canyon which drops over 150'/mi. There were a lot of undercuts but the run was not any more difficult than the Middle Fork of the Tygart or the Upper Tellico.
Bob Boyce, Scott Debalski, Elliott Drysdale, Rob Hammond, Bob Nicholson, Bob Weible and I decided to run the Nolichucky on Saturday. Boy was it cold. The 38 o temperature quickened our pace and we did the entire 9 mile run in two hours. The rest of our group headed over to the Ocoee since the Tellico was only running at about 225cfs. However Santo Albright and Kris Aalbersberg were coming from St Louis and had run the Big South Fork and figured we would be at the Tellico as advertised. So they ran the lower T at the low level and had a good time.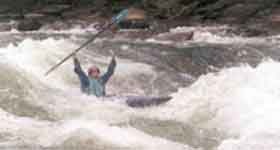 Hot Dog president on the Ocoee.
On Easter Sunday morning we had our annual pancake breakfast to get us ready for an early run on the Ocoee. Stu Koster and Boris Glick arrived from MI and Jim Maruna decided to go to FL to find some warmer weather. We broke into several groups and found the river virtually empty. However when you put 22 Keel Haulers on any river it is not empty. The weather had warmed somewhat and people were again smiling. Everyone ran at their own pace and we headed off after lunch to our next campground, Tallulah Falls State Park.
We had reserved the group campsite and pavilion. This turned out to be a very popular decision. The pavilion had about 8 picnic tables and a large fireplace that we made good use of for our evening campfire. When the rains came, it was a great place to get together and stay warm and dry.
On Monday morning nineteen of us split into two groups to run section IV of the Chattooga. It was running about 1.6', the lowest we have run it in several years so it was much easier. The newer paddlers were not intimidated by the big rapids. That is of course until we got to the Five Falls area. At this point our two groups combined to set up throw lines below Corkscrew and Jaw Bone. No one chose to run Crack-in-the-Rock, since it was posted that a grappling hook was left in the Middle Crack and the Right Crack was full of logs.
This was Kris and Sue's first attempt at both Corkscrew and Jaw Bone. They did great. We had only one swimmer at Corkscrew. The bottom hole gave Bob Nicholson a wild ride before he bailed. Ron Whitney stared him in the eye and said "YOU MUST GRAB THIS ROPE", he got his attention and Bob was quickly pulled to safety. Jaw Bone knocked down a few who got off good rolls part way down. The biggie, Sock-em-Dog is runnable at this level. I set up safety and Ron showed the group how easy it was to boof the roostertail over the hole. No one else made it look that easy, in fact when I ran it, I made it look really hard. I stroked hard at the big wave, spun sideways and dropped into the hole. A quick flip and roll showed the rest that it was just a puppy today. The race across the lake was won by Rob Hammond while I was content to surf Elliott's wake all the way across in my new short boat.
That evening Sabine Iben arrived from Germany along with Terry Markoff via a short paddle in WV. After the heavy evening rains we discovered that the Tellico had come up to about 720 cfs. Fourteen paddlers headed north to give it a try. The rest left for home. Santo Albright, Dave Broer, Scott Debalski, Boris Glick, Rob Hammond, Stu Koster, Brent Laubaugh, Bob Nicholson, and Bob Weible ran both the upper and lower. Kris Aalbersberg, Bob Boyce, Mike Duvall, Sabine Iben and Terry Markoff waited to run the lower Tellico.

Bob Weible on Baby Falls, Tellico.
The high water made Baby Falls anything but. A few walked this one as well.
I visited some friends in the area and met up with my wife, Peggy, who had been visiting her sister in Atlanta. We then drove up to watch the group finish up on the Tellico. As I drove up I saw Sabine and Boyce both get too close to Rob and flip and swim. I made a mental note to keep the group spaced better on the next river.
I checked the water levels and found that the rain had brought the Little River up to 1500 cfs on the Maryville gage. This was to be our destination for Wednesday.
We chose Elkmont Campground in the Smoky Mt. Nat'l Park, which was also the put-in for the upper run. It's only 2 1/2 hrs away from the Tellico, we got there just before dark. Scott and Rob had to take Bob Boyce to the Tri-Cities Airport since he had to be in Houston the next day. The rest of the group must have got lost a few times and all arrived around midnight.
The Little River was another new river for us. Santo said he had run it before but remembered very little of the run, especially at this high level. I decided that the fifteen paddlers should run single file since it was a narrow fast river without many alternate routes. Some of the less experienced had to be watched closely but everybody did great and had a good spacing all the way down to the Sinks, an 8.5 mile run. A local paddler said that this was about as high as he had run the Sinks and showed everyone the lines to avoid the large hydraulic that is just above the ten foot falls. Lots of people including me decided to walk it and end their trip there. The remaining seven paddlers paddled an additional 3.5 mi. to the Elbow. The local paddler says he always walks the Elbow but Santo and Boris gave it a try. They both made it fine but it is a tough class 5 drop.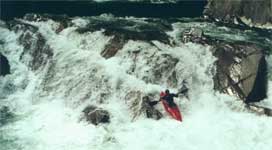 Brent runsSinks Falls of Little River.
The rains had also made it to the Obed and Big South Fork area of TN so off we went to Frozen Head SP Campground about 2 hours west. We were now down to 11 paddlers losing Bob Nicholson, Bob Weible, Mike Duvall and Elliott Drysdale who opted to head home. These were the lucky guys. The Obed had come up to 2500 cfs, so I knew that Daddy's Creek would have enough water. This is the best run in the Obed Wild and Scenic River system. All the other years that I have paddled here you needed to paddle Mon. to Thur since the Catoosa Wildlife Area closes some of the access roads to hunters only.
This being a Thursday off we headed to the put-in. When asked, "What do those signs mean, Big Game Hunters Only", I remarked, "Oh they probably just put the signs up early.. look the gates are open." We had a great day on the river. The sun was out, temperatures had finally warmed into the 70's. The 1.4' level was good. Sabine had a good day but Terry had a few short swims. Boris and Stu went off well ahead of the group wanting to get a fast start back to MI. The river starts out easy and then has a steep section full of house size rocks. It reminds me a lot of the Upper Yough, however it is not nearly as hard.
We had a little surprise waiting for us at the takeout (DBT), two wildlife rangers. It turns out that the area was closed for the entire week for turkey hunters only.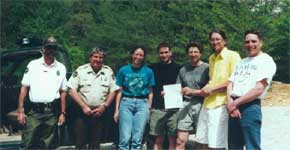 Keel Haulers get arrested for trespassing at Daddy's Creek.
They asked everyone to produce their ID. Since I had none, I wandered off and quietly changed clothes and crawled into the back of Santo's Cargo van. Kris also stayed in the van. The rangers proceeded to write trespassing tickets to everyone else to the tune of $142.50/person. Not too many smiling faces anymore. Especially when Santo drove away with the rangers wondering where those other two paddlers had gone.
I split the fine with Santo who had successfully hid me out of sight. Santo, Kris and I decided to head up to the Big South Fork which had come up to 3000 cfs. Dave & Brent went to WV where they found the Cranberry River running at 4.5'. They also hit the Upper Meadow at 1500 cfs. Lots of first time runs for Brent & Dave although the bitter taste of the big fine just wouldn't go away. Santo & I had a fun run on the BSF on Friday and then Santo ran with Kris on Saturday while Peggy and I headed home.
This year's trip was the biggest and best yet, taking into account water levels and all the new rivers we had run. I really enjoy watching everyone's skill increase with the full week of challenging paddling. The weather wasn't as good as some of our trips, even those that were as much as 4 weeks earlier and the big fine....nobody's perfect.Southern Trip Photo Album #2