Southern Rivers Trip
Spring 2001
(sans John Kobak?!)

by Judi Cleary (with a little help from Rob Hammond and Elliott Drysdale)

Yes, well actually John was there in spirit, even though his mysterious illness kept him from being there in person. And he was religiously there on the other end of the cellular phone, providing us with river levels and suggestions as to where to paddle next. I must say John did an excellent job on the weather this year, with very warm sunny days, at least for the first four days of paddling.


The trip began at the Nolichucky Campground where people began rolling in during the afternoon of Thursday, April 12. Paddlers this year included: Chuck Singer, Judi Cleary, her 14 year-old daughter Kristen Haase, Elliott Drysdale (stand-in trip leader), Rob Hammond, Mike Duvall, Casey Kaskey, Sue and Ron Whitney, Ron Tomallo, Shelley Schmidt, Bob Weible, Bob Boyce, Steve Bateman, Ann Corey, Chris Von Kiehl, Wayne Carey, Joe Okoniewski, Brad Guess, Bill Waickman, Dick Murr and Syd Reames.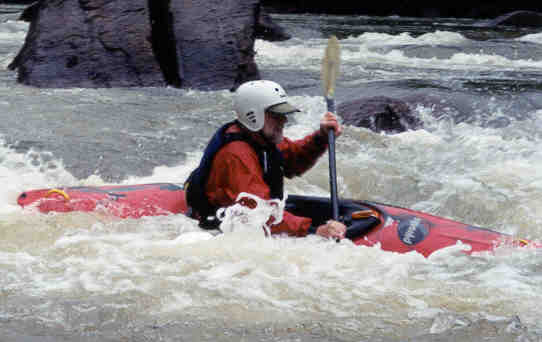 Trip Leader: Elliott Drysdale



Friday we paddled the Nolichucky,. The level was low at about 1500 cfs. Everyone did very well. Sue did an excellent surf at Jaws. The hole was sticky, a fact that Chuck demonstrated. The day started with rain but turned beautiful and sunny before long. For dinner we tried out a new Bar-B-Q place ("River's Edge") that just opened at a local rafting outfitters (Cherokee Adventurers). The new wooden building was very pleasant and the food was very good. The service was very slow, most likely due to their sudden initial growth. Definitely worth giving it a try again next year.

Saturday Ron Whitney and Wayne took off to paddle Tallulah Gorge. The rest of us went to the Tellico which was running somewhere around 350 cfs. One group started upstream to run the ledges, Baby Falls, and Jared's Knee. Ann and Shelley both pitoned in at the Ledges and Shelley's boat is a bit snub nosed now. Both suffered foot injuries but recovered quickly.



When we pulled in at the putin for the lower section we were greeted with the welcome sight of Syd Reames and his wife Tania. Syd was dressed and ready to paddle and it was wonderful to see him on the river again. This was his first white water trip since his fateful 50+ foot cliff jump in Mexico over a year ago when he broke his back. You would never know it to see him standing there and to see him on the river. He successfully executed a roll with quick precision. Syd paddled the lower section with Casey, Bob Boyce, Chuck, me in my kayak and Kristen in her inflatable. After pinning in the first rapid under the bridge (well, the level was very low with rocks sticking out everywhere), I did well for the rest of the run and really enjoyed this beautiful creek and it's fun chutes. After paddling we headed for the Ocoee and ate at the Mexican restaurant (El Rio) in Copper Hill.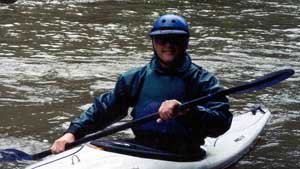 Syd Reames on the Ocoee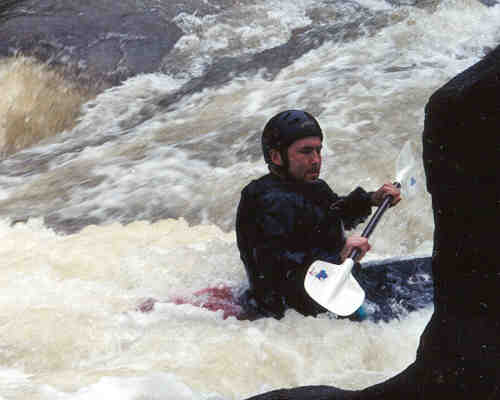 Southern Rivers first timer: Brad Guess
Easter morning it was pouring down rain, as we prepared to run the Ocoee. Later on though the sun would break through (after all, it was SUNday). The Ocoee running at 1200cfs had it's usual Easter morning low number of paddlers. Everyone seemed to have great runs. Kristen enjoyed her first Ocoee descent (in shredder with Mom) and particularly liked clearing out the kayakers at Hell Hole. This was Chuck's idea as he closely followed the shredder leading a line of club kayakers through the hole. He even demonstrated how to back ender to the loud cheers of onlookers.



Meanwhile (still Sunday), at the Tallulah Gorge, three paddlers (Ron Whitney, Wayne and Rob Hammond) descended the too-many-steps-to-count into the gorge. Before this point, Rob Hammond had decided he would not run Oceana. Having run it before, he decided he didn't need to do it again. But as he started to portage around, something went wrong. You'll have to ask Rob for the details, but I will tell you that he did walk away with only a slight limp and boat with a stubbier nose! But there was a lot of talk around the fire that night about whether it is technically a swim if you aren't in your boat to begin with (hmm?).

Farthur down the river, Ron Whitney leading the other two boaters, took a left line at a blind drop (but then they all are on the Tallulah), only to find a nasty undercut at the bottom of the drop. He did a rear ender just before the undercut, and went into it upside down! Fortunately after a few moments of being stuck upside down, under water, the undercut decided that it was not really hungry and spit him out, with nothing more than a sore back!

By Monday, we were down to 15 kayakers plus Kristen and I in the shredder as we headed down the Chattooga, Section IV. It was so warm and sunny that every snake in the area was out sunning itself.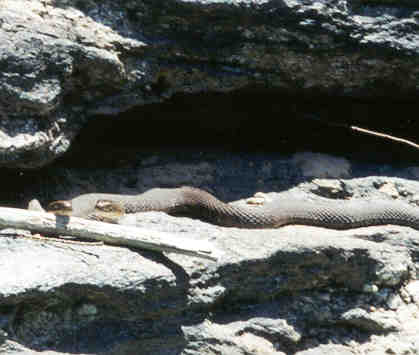 It was a great day on the river which was running 1 foot 5 inches on the USGS (internet) gauge (or 1 foot 3 inches on the river gauge ). Everyone ran Seven Foot Falls and no one flipped! We lunched at Raven's and soaked in the rays. While running Entrance rapid right above Five Falls, Kristen and I flipped going over a pourover, but both of us performed Olympic swims to make it to shore before the next drop (pshew!). Many excellent runs were made in the Five Falls, including first-timer Brad Guess.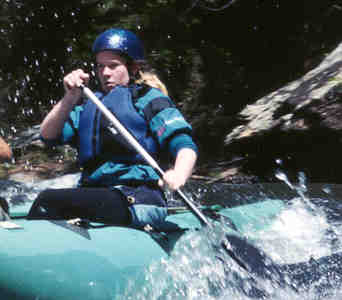 Kristen runs Ravens Rock



At "Sockem Dog", Chuck ran a sneak run on the left, which is a small chute called Puppy slot, soon to be re-named "Breakum Paddle", for self explanatory reasons. Fortunately someone threw him another paddle to complete the rapid, and Bob Boyce had a break-a part that Chuck used for the rest of the trip. The group watching Chuck was just discussing how someone had been trapped in an undercut there and they started yelling to Chuck to move downstream as he suddenly emerged from the rock. (Author's note: Fortunately, I was not watching as this occurred!)
WARNING: Do NOT run Puppy slot at low water; it can be dangerous.

Safety was set at every major rapid. This successful and very much appreciated effort was led by Ron Whitney with his usual expertise.

The shredder team gratefully acknowledges the assistance of Joe Okoniewski in portaging the shredder in the five falls area, and Chuck and Casey who provided assistance in pushing and pulling us across the lake.

The weather turned cold Monday night and by Tuesday it was snowing (yuk!). Not surprisingly, the group was dwindling. A small group of paddlers: Elliott Drysdale, Rob Hammond, Joe Okoniewski, Steve Bateman, Casey Kaskey and Wayne Carey headed for Daddy's Creek. The drive on route 28 across the mountains in a snow storm was a real hoot. The paddlers checked in with the Daddy's Creek ranger to reconfirm that the access was indeed open and also got local maps for the shuttle. Daddy's Creek was at 2800 cfs (Obed) and Joe, who had run it at 1200 decided not to run it that day and start the long drive home. This put a scare into others who had not run it before.

This also left nobody in our group who had run this before and so while we knew every drop was runnable, it is nerve racking to drop into blind drops. Santo Albright, Brendt Laubaugh, David Broer and Bill Waickman joined our group while Kris Aalbersberg took the day off and shuttled for them. This group was shadowing the main Southern Rivers Trip, sometimes only a day and a different river behind the main group. They then decided to run a small feeder creek to avoid the flat starting section. We met them just at the beginning of the "real" rapids.

This river is a 3-4 class river, with a lot of technical boating. It is something like the Upper Yough, but without the attitude! All boaters had a great time, and unlike last year, were not met at the takeout by rangers giving out $142 tickets to everyone for trespassing during the turkey-hunting season. This year we checked the Internet and the park office before venturing into the Catoosa Wildlife Management Area, without a turkey-hunting license.

The air and water was warm and Daddy's Creek is one of those rivers that is a must to add to the intermediate paddler's repertoire.

That night we got pizza and camped at Frozen Head Campground. Our paddling gear that we set out to dry froze solid but the next day started to warm up again.

Wednesday, the group, sans the shadow people, went to the Big South Fork (running at 2900 cfs), which brags of the largest canyon east of the Grand Canyon. The shuttle is well marked with signs. Again, this was a first run for all of us. We knew that the two big drops were the "Washing Machine" and the "Ell". We paddled for two hours and stopped for lunch, assuming that we had already run all the big rapids. When we did come to the "Washing Machine" Elliott ran down a side path and directed the remaining group down the main route over the "Washing Machine". Everybody cleared the entrance hole but Bob Boyce got stalled on the down stream boil and baled. It was an exciting swim with Rob Hammond helping with a throw line.

At the "Ell" Steve Bateman swam the entire length and came out like a drown rat. Everybody else ran well.

That night Wayne Carey, Rob Hammond, Bob Boyce and Elliott Drysdale headed off for the Cheat. The good news was that the Cheat was at 3 feet and forecast warmer weather. The bad news was that it was an eight hour drive. We stopped at a rest stop outside Charleston.

Thursday we met Ron and Sue Whitney at the Cheat take out. They had spent the last two days at a hotel with a heated pool. Ron had to sneak his kayaks into his room through a window at night. (Now where was their new pup, Ely one wonders?)

The Cheat was at 3.2 feet and pushy. While the air was about 50 degrees, the water was cold. Wayne, Ron and Sue decided to go the Upper Yough while the rest of the group went home.

As a follow up, Wayne ran the Lower Yough at 4.2 feet the next day. He also read that a young boy had drowned on the Big South Fork on a family canoe outing on the lower section at Angles Falls while we were on the upper section of the river.

Just to let you know, John, we really did miss you on this trip and definitely look forward to having you along next year. And a special thanks to Elliott for filling some mighty big shoes and making it look so easy!

Click here for more trip photos