Conservation Page
Updated 10/18/17


Updated information will be posted as I get it.
If you would have a question or would like something posted here, send an e-mail to the Conservation Chair, Matt Fredmonsky, or call him at 330-289-0388.
You can also send lynx, conservation info, articles, & etc. To our Conservation Webmaster, Ratt Boy.
---
New! Gorge Dam Removal Update 2017! by KHCC Conservation Chair Matt Fredmonsky
The Brecksville Dam is still slated for removal. The Gorge Dam removal effort's funding is at risk. Please see the article for details.
Gorge Dam Removal Update 2016
Gorge Metro Park History-Part1 by Elaine Marsh
Gorge Metro Park History-Part2 by Elaine Marsh
---
Revisiting the Gorge Dam Removal
Submitted by Karl Nelson


The Keelhaulers Canoe Club has long advocated for the removal of the Gorge Dam in the Cuyahoga River, and with the release last year of the Ohio EPA/TetraTech engineering report, that reality has taken a big step forward. But there are still lot of questions about the next steps in the process. That's why WKSU is revisiting the discussion through a public forum in Cuyahoga Falls. Here are some of the details:

WHAT: WKSU Exploradio public forum - The Gorge Dam Removal Project – One Year Later

WHEN: Sept. 21st, 2016, 6:30-8:30 PM

WHERE: Sheraton Suites, Cuyahoga Falls

WHO: The panel includes: Bill Zawiski, Ohio EPA; Lisa King, director, Summit MetroParks; David Hill, member American Whitewater and KHCC, REPRESENTATIVE, City of Akron

It's been one year since the Ohio EPA released its engineering report on the proposed $70-million removal of the Gorge Dam in Cuyahoga Falls. This forum brings together many of the stakeholders in the project in a public discussion of the feasibility of the project and its effect on the future of the Cuyahoga River.

As you see, we've asked David Hill to represent your group - and he has agreed. But I also want to invite you to attend and to help spread the word.

Yours,
Jeff St.Clair, host/reporter, WKSU-fm, stclair@wksu.org

Brecksville Dam targeted for demolition
August 6, 2016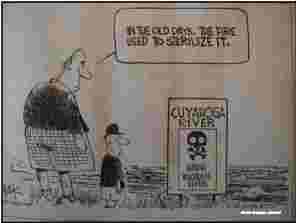 One of the last two dams on the Cuyahoga River is going to be removed, likely in 2017 or '18. Akron and Cleveland will share the cost, along with the US and Ohio EPAs.

The dam has no real use, so it's simply a navigation hazard (a low-head dam "drowning machine", a barrier to fish migration, and a generator of low oxygen levels in the river. Its only use is to hold water for the historical canal, which parallels the river. Because of the interest in the canal, demolition plans include a pump station to fill the canal.

Read the Plain Dealer article here.

A public hearing on the project took place on September 7, 2016. Unfortunately, we currently have no info on the public hearing.




Legislative Update - LWCF & Hydropower Bill

Update from American Whitewater – December 22, 2015



H.R. 8 - Hydropower Legislation

Background: H.R. 8 is a comprehensive energy bill that has some very troubling implications for rivers with private and municipal hydropower dams. The hydropower provisions of the bill make it harder to protect and restore rivers impacted by hydropower dams by allowing operators to ignore federal and state laws that protect water quality, endangered species, fish, wildlife, recreation and public lands. It strips states and Native American tribes of their existing authority to hold dam owners accountable for pollution and damage to local rivers and communities, as well as federal agencies to protect fish and other aquatic species. It also would have made it easier to build new dams on freely flowing rivers.

Update: The House passed H.R. 8 on December 3rd. Your efforts DID make a difference though, and hope is not lost for the future. The outcry from the paddling community was strong (over 700 of you reached out to your Representatives in a 24 hour period before the vote), stirring a lot of controversy around the hydropower provisions. The bill passed on nearly a party line vote, and the hydropower industry's effort to make this a bipartisan initiative largely flopped. The bill goes to the Senate next, and this controversy will make it more difficult for the hydropower provisions to move forward.

Additionally, the Obama Administration issued a Statement of Administration Policy noting that the President would likely veto the bill in its current form, in large part because of the hydropower provisions. The SAP states that H.R. 8 would "undermine the current hydropower licensing regulatory process…that works to minimize negative impacts associated with the siting of hydropower projects, including negative impacts on safety, fish and wildlife, water quality and conservation, and a range of additional natural resources and cultural values." It certainly is an incredible achievement to have the President single out this portion of the bill.

Land and Water Conservation Fund (LWCF)

Background: As "America's best conservation program," the LWCF has helped to build trails, parks, river access, trailheads and so much more for over 50 years in all 50 states. This vital program has funded key river access points on Washington's White Salmon and Green Rivers, Idaho's Salmon River, Colorado's Arkansas River, Georgia's Chattooga River, and dozens of others across the country.

LWCF uses a portion of the royalties from off-shore oil and gas leasing to fund outdoor recreation and conservation projects, and was set to expire on September 30th, 2015. American Whitewater's members and other outdoor enthusiasts wrote to their Congressional Representatives in support of LWCF, and AW staff and members visited D.C. to highlight its value.

Update: Despite having broad bi-partisan support, Congress let the LWCF expire. Shortly afterwards, Representative Rob Bishop (R_UT) introduced a zombie LWCF bill that would have made the program a shell of its former self. The overall outcry from the outdoor recreation community was huge. Fortunately, Congress took note and reauthorized the program for 3 years at $450 million in the Omnibus bill it recently passed. Although this is 1/2 the amount that LWCF was historically slated to receive ($900 million) and is a temporary solution, we see this as a pretty great first step. In the current political climate and with a zombie bill in the works, it's great news that the program still looks a lot like its former self. Plus, $450 million is actually 50% more than the fund has seen in the last few years.


---
Cuyahoga Dam Removal
by Matt Muir
Update (8/17/13): The Sheraton and LeFever Dams have essentially been removed. The project was delayed by high water, but once begun it went quickly. The river is already re-forming in its natural flow pattern.
See the removal of the Sheraton Dam in 30 seconds.
Friends of the Crooked River Trilogy
Elaine Marsh, Conservation Director for Friends of The Crooked River, spoke at the KHCC meeting in October. From her excellent talk, we have a series of three articles on the Cuyahoga. See the articles about Dam Removal, Combined Sewer Overflows, and the Cuyahoga Water Trail. (Your Keel-haulers dues support the club's conservation fund, part of which helps support FoCR.)
(Note: In contrast to The Lord of The Rings and The Hobbit, this trilogy was rolled out over only three months, not three years. Also, there's no Gollum. Although, now that you mention it, Kobak does bear an uncanny resemblance.)
News 12/30/12
---
Cuyahoga Water Trail
Friends of the Crooked River and other groups are working toward the establishment of a water trail on the river in 2013. This involves improved putins and takeouts and public information including signs and maps. Read about it here.
News 12/30/12
---
Exposing some Cuyahoga falls
Two dams to be removed from the Cuyahoga River downtown
10/09/2012
By WKSU's MARK URYCKI
---
New - River access points in Kent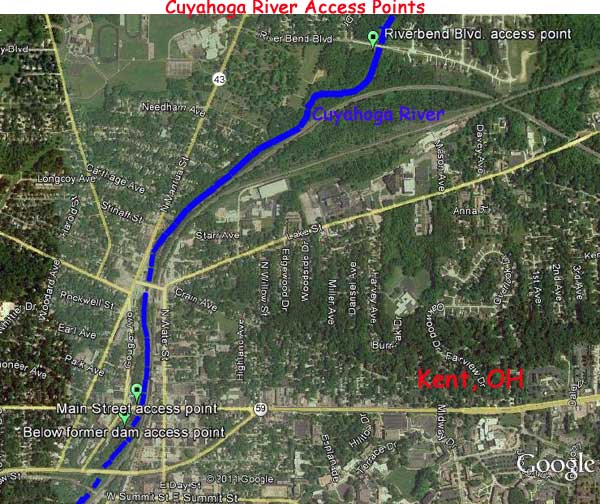 Welcome to Ohio, the Non-Whitewater State!
12/25/2011
By David Hill
Get Ready to Celebrate 200 Years Along The Crooked River in 2012
10/25/2011
By David Hill
---
Old Conservation articles
KHCC Old Articles
---
Some additional interesting links
AW Conservation
AW Access Issues
Dam Removal Info
Free Nature Guides
Lake Erie Watershed River Information
---
Mountain Top Removal
Is threatening the Appalachian's
Visit these websites for more information

I Love Mountains
Appalachian Voices - Mountaintop Removal Overview
---
This website is using DHTML Menu By Milonic JavaScript