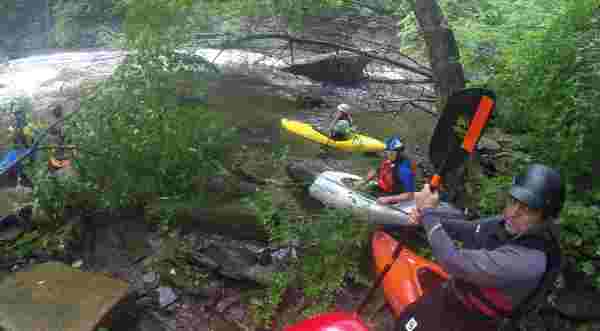 Proposed Removal of Cuyahoga Gorge Dam
by Matt Fredmonsky
In 2015, following the publication by the Ohio EPA of the "Feasibility Study for the Removal of the Gorge Dam," the sense of optimism for the removal of this useless hunk of concrete was never higher.
Both local environmentalists and whitewater kayakers believed the dam's demolition was on the horizon, something that would improve water quality, reveal the truest nature of the original Cuyahoga Falls – something not seen since before 1913 – and open up additional whitewater paddling opportunities between the popular Lower Gorge and Upper Gorge (Sheraton) sections of the river.
Unfortunately, despite a path forward being laid out in the EPA report, funding for removal of the dam was eliminated in 2017 by the new administration's proposed budget.
Supporters of the dam's removal are encouraged to submit letters encouraging funding of the Great Lakes Restoration Initiative, which would potentially make funding available for the dam removal. Read this Cleveland.com story for an update on the dam, a timeline of its history and a template for sending a letter supporting the initiative.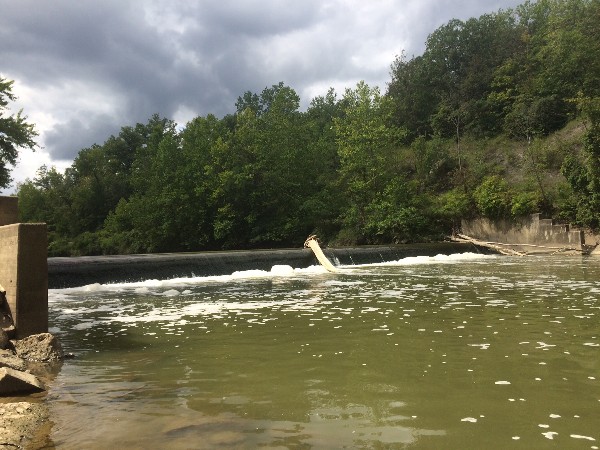 The Brecksville dam in the summer of 2017. (Click on the image for the full-sized photo.)
Brecksville Dam Slated for 2019 Removal
by Matt Fredmonsky
Unlike the Gorge Dam, one of the two remaining dams on the Cuyahoga River will come down soon. Cleveland.com reported that the Brecksville dam's removal has been delayed until 2018-2019.
This low-head dam stands within the Cuyahoga Valley National Park and is several miles downstream of the popular "271 wave" park-and-play area at the Boston Mills trailhead. This dam is a killer, so for those paddlers interested in paddling the stretch of the river that includes this dam, it is a must to portage, especially at higher flows.
Removal of this dam will include a special project designed to provide water from the river to maintain the existence of the adjacent, historic Ohio and Erie Canal. Click here for the latest from the Ohio EPA.