Old Friends out West
By John Kobak
When I listed my Idaho trip in the yearbook I had hoped paddlers were ready for another Far West trip. Two weeks before the scheduled trip I considered canceling since I hadn't gotten any response from anyone. Then Santo Albright wrote and said that he and Kris were planning to go to Colorado, I figured why not paddle for the first week in Colorado and then head to Idaho. I knew Fred Robinson was moving from Ohio to WA and had a permit to run the Rogue River in OR in mid July, so after Idaho it was off to Oregon.
Now with the new trip plans I started to get some response. Scott Debalski and Elliott Drysdale figured they could get away for a week in CO as neither of them had ever paddled there before. Rob Hammond called when he found out he would be in Idaho Falls on business and could extend his trip for a long 4 day weekend to paddle in ID. Then Mark Steinmetz, a new member from Columbus, met Rob on the New River and thought he could meet Rob in Missoula, rent a car, kayak and travel with Rob to ID.
While surfing the Internet I saw a note from an old KH member Chuck (Opie) Pezeshski about ID rivers. When I contacted him I found out that he was a Prof. of M.E. and was living in ID with his summers free. He agreed to bring a kayak for Rob and paddle with us.
I got e-mail from Betsy Youngman from Phoenix, who had learned to kayak with KH's before moving to AZ. She was planning to fly to ID meet up with a friend, Stan, and paddle in ID for the week that we planned to be there. Another message came from Mary Lou (Chaddick) Evans, a long time club member, who lives in CA. She and Ed were travelling to Sisters, OR for a week before heading to the Umpqua river, which they highly recommended.
Santo and Kris got to the Poudre River east of Fort Collins, CO on 6/18. The river was running high (5') and Kris took a long swim in the fast cold water. When Elliott and Scott arrived the next day they decided to warm up on an easier section near Rustic. Peggy and I arrived while they were on the river. We decided to do a late day run starting above Rustic down to the Mountain Park campground (River rating 25). It's a good idea to get to this camp during the week as it is full every weekend.
The weather was great and the water level was dropping. We decided to let it drop a little further before tackling the tougher sections. We took a half-day hike on Stormy Peak's trail, which heads into Rocky Mt. NP. We stopped at the snow line. Nice and cool. When we got back everyone but me paddled the short stretch down to the Narrows. The Narrows looked too tough at these levels.
On Tue the river was down to 4.5' so we decided to run the 8-mi. section (Rating 28) from just below the Narrows to Pine Vu rapid. Kris decided to take videos as the river parallels the road the entire way. Mishawaka rapids were very pushy but fun. The real fun came at Pine Vu rapid. On the shuttle I scouted the rapid and saw a good way to miss the huge hole at the top of the rapid. When we got there, everyone but me rescouted to be sure they knew the line. I was confident, it was fused into my memory. I knew I had to stay hard left before cutting back to the right just below the hole. The only problem was that I forgot that there were two drops that needed to be run on the left. I moved right too soon. I paddled right into the large hole. It stopped me, sucked me back in but then generously back endered me free. A quick roll ensured that I missed all the rest of the action in the lower rapid. Everyone else had great lines, easily missing the hole although Elliott did get flipped in lower section. Scott and I took an afternoon downhill bike ride along the river.
For our last day on the Poudre, we started at the fish hatchery and paddled all the way back to camp, about a 14-mi. stretch. (Rating 29). The first section is called the White Mile and it is. At this level, it was every man for himself. There was no option to swim and be rescued. It was continuous class 4 with lots of stopper holes. I saw some quick rolls. Kris put in below this stretch, smart move. We got back to camp by lunch and Peg and I were on our way to our next adventure.
We drove out over Poudre pass on our way to Wyoming and Yellowstone Park. We did this to avoid the road back toward Ft. Collins. The road had completely washed out just downstream of Pine Vu rapid and was going to be closed for a few weeks. We had barely our way in to the Poudre on the detour route since it had a 12% grade.
Here is some travel advice. Don't go to Yellowstone NP. We had been there on two previous occasions and found it to be a beautiful park with lots of wild animals. However, the park has not recovered from the extensive forest fires of 11 years ago. Ninety percent of the trees are nothing but charred sticks. The new trees are two feet tall. Come back in 50 years, it may recover. The bears were eradicated 20 years ago, and the only abundant animals are the Bison. In fact a little too abundant. I was taking a bike trail and found myself confronted with Bison on either side of the trail. They stared me down and I turned around leaving the trail to the large herd.
We then headed for Idaho where we were to meet up with Rob, Mark and Opie. As we pulled out of Missoula, MT, I looked in my mirror and saw a car with a kayak following me. Ninety miles later they were still behind my motor home, when I pulled into Wilderness Gateway campground my suspicion was confirmed, it was Rob & Mark.
Right after we got our campsite on the Lochsa River, who drives up but Betsy, Stan and another friend of Stan's. Opie arrived with Rob's kayak and said he could paddle with us the next three days. We were going to have a KH sized trip.
The next two days we paddled the Lochsa (Rating 28), it was on the high side 8000cfs. We ran the 9-mi. lower run and the 17-mi. upper run. The big water took some getting used to, but no one had any problems. Opie, Mark, Rob and I then broke camp and moved upstream near the Lochsa lodge; Betsy & Stan paddled one more day on the Lochsa.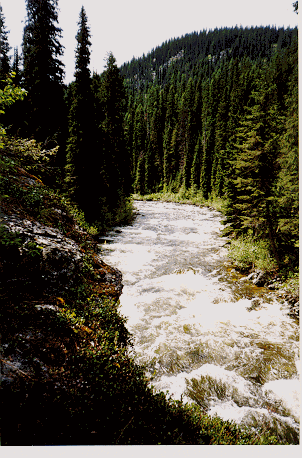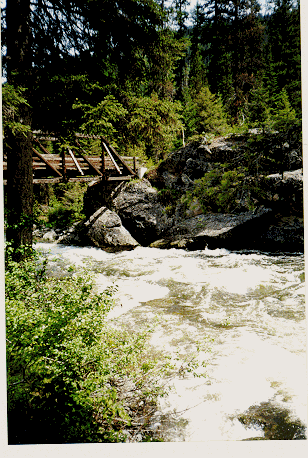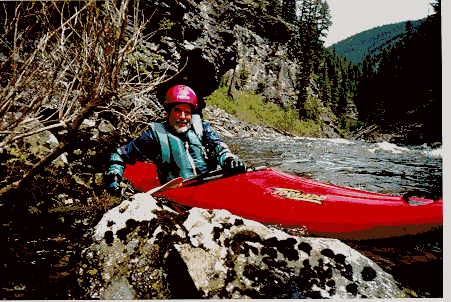 We got word that they just got the shuttle road open so we could run White Sands Creek, a tributary of the Lochsa. Peggy was going to shuttle Opie's Vanagon for us but when she saw the narrow road and all the downed trees she said forget it. I counted over 80 trees that had fallen across the road. Somebody had carefully cut a car size piece from the middle of each log, what a shuttle. I would rate White Sands Creek about a 28, it's a small remote creek with most of the action in the first 5 mi. Keeps you busy, with some blind drops but no big drops. It is in a spectacular wilderness setting. I've heard that they may close the river to paddlers in the prime part of paddling season due to the fact that Harlequin Ducks nest along the banks. After the run, Mark, Rob and Opie headed home and Betsy and Stan arrived, to paddle WSC.
The second day on White Sands we paid for a shuttle. A much better idea. Right after our run we headed south to run two sections on the South Fork of the Payette.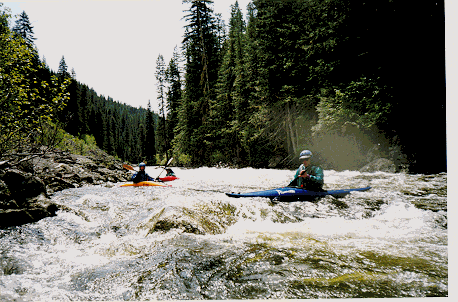 After camping along the Salmon River we drove along the North Fork of the Payette.
This is the toughest looking stretch of water that I have ever seen anyone paddle. It's continuous class V, with no place to recover from a spill. Betsy says she had run it before but it was beyond my ability. Karen Wattenmaker (former KH'r) now lives right near the confluence of the North Fork and South Fork. I had planned to meet up with her but our schedules conflicted. She was in Alaska climbing Mt. McKinley.
We ran the Staircase section of the South fork on our way to camp. This popular 5-mi. roadside run reminds me of the Ocoee but rates a little harder a 28. It is a popular rafting section. It was running a little high, 2000 cfs so the holes were large but even though I missed my line through two of the bigger drops I blew right through the holes (Thank goodness). Peg & I headed up to Pine Flats Campground on the Canyon section with a nice hot spring. Stan & Betsy went back to Boise for the next day. She bought herself a new Perception Mr. Clean.
On Friday, Betsy, Stan and I ran the Canyon (29) section. This 10 mi. run features a 35' triple drop called Big Falls. Everyone portages except a few paddlers who over the years missed the portage. No one has died but I don't know why. Actually the next rapid below here was the site of famous Dr. Blackadar's demise. A plaque hangs there in his memory but I was so busy negotiating the big waves that I missed it. Again I missed a critical move in Lone Pine Rapid but the big volume blew me right through the large hole.
Stan & Betsy were heading over to run a class V section of the South Fork of the Salmon. I decided to wimp out and head to Oregon. So far on the trip the weather was pleasantly cool while a heat wave raged in the East. When we got to Newberry Crater (Lava Lands National Rec. area) we found the trail closed with snow. We were planning on heading up to Crater Lake NP. When we heard that some of the roads were still closed by the huge winter storms we decided to see if we could find Mary Lou (Chaddick) Evans who was supposed to be camped along the Metolius River near Camp Sherman, OR.
We eventually found her but discovered that she was spending the week in quilting classes while Ed and his "Little Brother" were biking, fishing the Metolius. This beautiful river springs up right in the park and flows at basically the same level all year long. Ed wasn't interested in paddling the easy stretch and didn't want to do the long shuttle required on the class 3 section, so we skipped the river and did some biking instead. Maybe next time. They were then going to paddle the Umpqua River, which was on our way to the Rogue River. However they weren't heading there until the weekend when we needed to meet Fred Robinson for our 4-day trip.
We decide to head for the North Umpqua on Tue and camp at a nice NF campsite on the river (Horseshoe Bend). It's a popular campsite since it is situated midway between the two most popular paddling sections of the river. There is a 50-mi. long hiking/biking trail that parallels the river. Well, rather it is a steep single track that gave me a real workout. It's not a Rails to Trails. Up and down the mountain I went as I crossed the numerous side streams that feed in along the way. Needless to say I took the main road back to camp.
The river was spectacular, crystal clear water in a beautiful valley. The road parallels the entire way making for easy shuttles. I guess this place is more popular on weekends as there were no kayakers in camp. I waiting at the put-in and a guy showed up in an Inflatable kayak so I had someone to paddle the 8-mi. upper section with. The river was flowing around 1000cfs and I would rate it 21. Mostly easy class 3 rapids. The next day I decided to paddled the 7-mi. section below the campground but I couldn't find another paddler. The river was pretty straightforward and I had no trouble going it alone.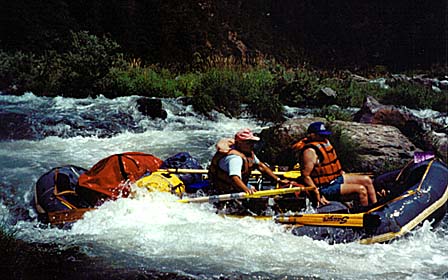 We were to meet Fred on Sunday afternoon for our Rogue trip but since I wanted to ensure Peggy that had a nice place to spend the week we left on Friday for Grants Pass. There is a beautiful County Park on the river called Indian Mary. We would come back on Sunday. In the meantime we decided to checkout Rogue River State Park which was upstream of Grants Pass. This crowded park is on a flat-water section of the river and along the Interstate highway. Stick with Indian Mary. This camp would also be a good location for paddling the section of the Rogue above the "Wild & Scenic" permit section.
Fred finally showed with his friend Judy who lives in OR. Fred has finally relocated from Youngstown to Trout Lake, WA. He hopes his Keel Hauler friends will stay in touch and come out to experience what WA & OR have to offer.
We would be shoving off on Monday morning with 2 rafts and me in my trusty Pirouette Kayak. George and his friend were rowing a cataraft. The weather finally turned HOT. It was to hit at least 100oF for a few days. The river was relatively warm 68oF. With 4 days to complete the 37-mi. trip we had lots of time to enjoy the beautiful river. We paddled from Almeda Bar to Foster Bar. There are plenty of campsites along the way since there is a limited number of paddlers allowed on this section. All the camps had latrines, which was Fred's favorite thing since he hates to carry waste out with him.
The first day we got to the biggest rapid, class 5 Rainie Falls, however it has an easy class 3 sneak route. A little narrow for the rafts but easy for a kayak. The river is basically a Class 3 run rating 23 on the KH scale. Camps have lots of trees unlike the Grand Canyon trip. Some good hikes to cabins, waterfalls, and lodges along the way.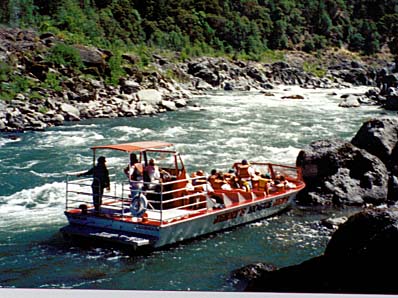 Jet boats can travel down a few mi. from the put-in and then again the last 11 mi. below Blossom Bar. However, whenever we encountered one they were quite courteous. They always stopped as soon as they caught sight of another boater. After you had time to move to the side they would proceed by at a slow pace so as not to cause a large wake.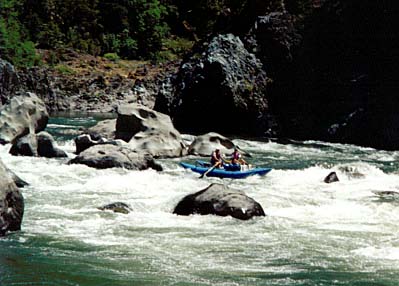 It was an enjoyable trip, however I messed up one time. They were enjoying a slow morning in camp so I decided to enjoy Mule Creek Canyon on my own. I told them I would wait above Blossom Bar which was a Class 4 rapid. I floated the narrow canyon section enjoying the beautiful scenery cautiously moving down through easy raid looking for BB. One rapid I had to view cautiously but when I saw there was basically one move to the right of some huge boulders I figured this couldn't be BB. However, while sitting in the eddy below the rapid I was startled as a large jet boat came up from downstream and stopped along side. I then remembered Fred's description that the jet boats can't make it above BB. I guess I better walk back upstream so when our rafts arrive they know where I am. Actually the high banks along the rapid are good places to take pictures, which I did after they acknowledged that they saw me. I guess it's a class 4 for rafts as I watched a few rafts had trouble making the move and almost flipped against the "Picket Fence".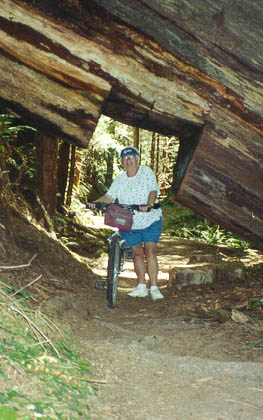 The shuttle back to Indian Mary camp from Foster Bar was a spectacular drive. I enjoyed it so much I told Peg, lets head to the OR coast via the shuttle road. Well my motor home had a little more trouble making the grade but we made it OK. I did realize that what was causing my engine missing problems. I replaced the spark plug wires and it ran like new for the remainder of the trip.
The Pacific Coast was a surprise. I didn't realize you could grow palm trees in OR. I guess it never goes below freezing along the coast. It also was foggy and cool. A welcome respite after the last week of hot weather.
We then headed south into California's redwood coast. Peg and I took a tough trail ride though a spectacular forest on trails that were not recommended for bikes. I can see why. Steep hills and lots of roots. However the beauty of the ride made it worthwhile.
We drove along the Trinity River, which reminded me, a lot of the Umpqua. We camped at the takeout for the east class 3 section and found a kayaker from New Hampshire that was willing to paddle the river. He had been there a week panning for Gold but never took his kayak off his truck.
This is a fun section with clean water. It is a popular rafting section, but because of it's remote location is never crowded even on weekends. I would rate it about 22. There is a class V canyon section further downstream that sounded more difficult than anything that I wanted to paddle.
What a trip, met lots of old friends, paddled some new rivers and escaped the big heat wave and dry weather back home. It was a lot of driving but a pleasant way to spend the summer.