Black Eye, Broken Ribs, Bruised Elbow and Lost Boat … another fun Southern Trip.
By John Kobak
Twenty-six paddlers came on this year's trip. Most paddled the four day weekend. Some paddled for the entire 8 day trip. A list of all the participants is at the end of this report. Elliott Drysdale came out of retirement and accompanied me and Syd Reames in my motor home while Peggy borrowed Syd's car to visit her sister in Atlanta as usual.
This was a year of records; The number of paddlers, Warm weather, injuries and even a lost boat. We started out as always on the Nolichucky. It rained the day we got there bringing the river up to about 2000 cfs. We hoped that the Watauga would stay high enough for us to paddle. The weather took a turn for the better, sunny and warm on Good Friday morning. Calls to the Gages revealed that the Watauga was too low and unless we got more rain the Tellico would also be too low. It never rained for the rest of the week and temperature went into the 80's.
Click on any of the pictures for a bigger view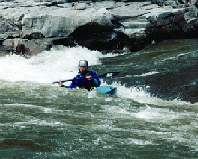 Barry Adams in Jaws
Twenty Five paddlers plus a small group of paddling buddies from RBP (rec.boats.paddle -Internet newsgroup) showed up. By the time we launched the river went down to 1700cfs, a perfect intermediate level. We broke up into 3 groups on the river so I didn't get to see the action at quarter mile rapid. Shelly (Faba) Schmidt flipped and did an face plant on a rock. Wow, what a shiner. All she needed was a few missing teeth to go with the hockey shoulder pads she wore, to look like a NHL player. I think she was the only swimmer on Friday.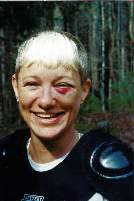 Smile Shelly
Dave Hammond and his friend Matt Hopkins had shown up a few days earlier (Spring Break) and were camping downstream of the campground to save a few bucks. I guess this agitated the campground manager. When we arrived they dropped by to say hello, the manager wanted them to pay a visitors fee, which they politely refused to pay and left. On Friday when we got off the river he again spotted them in the campground, now he was serious about being paid. I sent Rob Hammond down to see if he would take care of it. Not exactly. After Rob would not pay for Matt, the manager blew his stack and told us all to leave. Luckily we had decided that since the only good water was at the Chattooga that we should drive down Fri. night to get an early start on the river Saturday..
We decided to try a new campground at the Chattooga. Craig & Mary Ewing are in the process of building the "Paddle Inn" just off the section four shuttle road. It won't open until this summer but they agreed to allow us to be their first paying customers. No water, toilets or showers as of yet but I had electricity for my motor home. The campground is along Long Creek and is very quiet and secluded. They eventually expect to have a restaurant, cabins and include room(camp) service.
The rain had brought the Chattooga up to over 3' but it was falling fast. We would have three different groups running on Saturday. Seven persons went to run the Tallulah Gorge which requires a permit. Luckily Ron Whitney & Barry Adams both got permits. The Tallulah is a dewatered section below a huge dam. It has been dry for 70 years and due to AWA's help, the power company has agreed to release enough water for paddlers on four weekends per year. Last year twelve Keel Haulers got to run the gorge which contains a 55' runnable falls (Oceana) and several class V rapids.
This year we had a few accidents at Oceana. Ron Tomallo flipped and somehow reinjured his ribs which he had broken, motocross racing, last year. He paddled a few more rapids and finally realized his problem. He couldn't paddle anymore and he wanted to walk out. Ron Whitney, Matt Hopkins and Dave Hammond agreed to get his boat to the takeout by running it though the rapids. Ron T. didn't know about or couldn't get to the foot path that comes in near Bridal Veil falls, so he waited until they turned off the river later in the day to walk back up the 890 stairs to the put-in. First timers Erin Bethea, and Wayne Carey had no problems although they did walk Oceana..
Our second group of six paddlers headed for Section 4 of the Chattooga which was running at 2.2'. Charlene Thompson (Cheeta -RBP) did a good job of leading them down the river. A little rolling action in Corkscrew, for Greg Lewis. All ran right Crack to the right into the eddy except Matt, Rick & Cheeta, who took the far right creek route. Matt and Rick made it successfully, but Cheeta got pinned, hit her head on a rock, scratched her helmet & got sucked out of her boat. She recovered quickly and went on to an uneventful finish to the day. No race across the lake.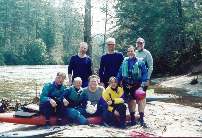 Section 3 Paddlers
The third group of eleven paddlers opted for Section 3 of the Chattooga. I haven't run this section in years and it was at a decent level so I figured we could do the whole run from Earl's Ford to Bull Sluice. We had lots of bad lines at Dick's Creek Falls but only one swimmer. We made good time even with taking some time to run Bull Sluice. Everyone except Shelly shot the Bull. At this level you can go just to the left of Decap. Rock which is completely covered with water. It is an easy line. Below 2', most people run to the right of the rock and punching the hydraulic becomes trickier.
On Easter Sunday morning Dave Becker prepared a big pancake breakfast for everyone. The time change caused a few late sleepers to almost miss Dave's great homemade maple syrup. We again broke into three groups.
Six headed for the Tallulah Gorge. Ron Whitney had to patch his eyebrow after a little tangle with the rock wall in the eddy at the bottom of Oceana. Rob Hammond also flipped, he tried a few roll attempts against the unforgiving rock wall in the eddy and bailed. Turns out that he had banged his elbow in Oceana which quickly produced a large bump the size of an orange. He intends to wear elbow pads the next time. The river was VERY pushy at about 825 cfs. Definitely a challenging level that required the group to stay focused on the river.
The remaining 15 paddlers split into two groups to do Section 4. It was interesting to watch Chuck Singer's group come down through Seven Foot Falls. Chuck came first, misjudging the line and flipping on a rock just left of the right hand sneak route. he slid down the sneak upside down, momentarily pinned on a rock and self rescued into an eddy. Others did variations of his theme, with Sue Strumbel coming to rest upside down atop of the pinning rock. A real circus. Of course our group all did perfect boofs down the seven foot drop, NOT.
Mike Duvall did a repeat of last years swim at Corkscrew, complete with a throw line rescue by Ron Whitney. The next excitement started at Jaw Bone. Our groups were helping each other out at this point with throw lines. I thought they had already setup a line below Jaw Bone so I headed over to the staging eddy immediately above the drop. To get here, you must punch a good size hole. I didn't explain this move to Luke Thompson and didn't expect that he would follow me. He missed the eddy and flipped while dropping into the start of the rapid and swam. As I pulled out to chase him, Cheeta whipped out in front of me and went down to rescue him, however she flipped and also swam, so I had two swimmers heading for Sock-em-Dog and realized that the throw rope had not yet been setup. Scott Debalski followed me but the best we could do was to get Cheeta into the eddy. I prayed Luke would be OK as he held on to his boat and went over Sock-em-Dog just right of center. Scott quickly dropped down the Puppy Chute and found out that Luke had made it OK. This was the first time we had anyone swim over the Dog. Cheeta, anxious to redeem herself for the swim jumped back into her boat and attempted to run Sock-em-Dog. Slightly off line she ended up in the bottom hole and took another swim, Oh well it was not her day.
On Monday, the group usually starts to fragment. Six people headed home. Two new paddlers joined the group Brent Laubaugh, who was taking an NOC class and Terry Markoff paddling an open canoe. This gave us fourteen paddlers which we split into two groups on Chattooga Section 4.
The trip went really well until First Falls. Sue Strumbel started a little two far left and got surfed in a hole. She rolled and barely had time to get to the right and again flipped as she dropped into the pool above Corkscrew. Safety boaters pulled her and her paddle to shore but her kayak kept going. I told Ron not to bother chasing it as I wanted him to set a safety rope up below Cork Screw before the groups paddled down. I explained that the boats always either stop at the bottom of Crack-in-the-Rock or end up in Dead Man's pool below Sock-em-Dog. Sue started walking.
The rest of the runs went fairly smoothly and I made sure to set up a throw rope below Jaw bone before the group headed down. Cheeta flipped again in Jaw Bone, this time she kept trying to roll. Moral of the story is that you should only try one roll below Jaw Bone. When she bailed out she was already out of range of the throw line so over the Dog she went, it was starting to get to be a long weekend for Cheeta.
Matt Muir (Riviera Ratt) figured that if Cheeta could swim it twice and almost run it once he ought to give the Big Dog a try. Brent and I set up throw lines next to the big hole and anxiously watched. Matt's line was perfect, right over the Rooster Tail but a little too slow. He didn't get far enough away from the hole and was quickly sucked down into a vertical position. I guess the Dog had the Ratt's tail. He remained in this position for at least 5 seconds and than slipped into the hole sideways. I hoped, could this be the Ratt's first swim in three years? I shouted back paddle, but he was quickly sucked forward into the deep part of the hole and disappeared. He reappeared upside down but free of the hole, a couple of roll attempts and he was on his way.
Now where is Sue's kayak? We searched upstream and downstream, nothing. It was gone. Luckily a raft trip offered her a free ride across the lake to the takeout. She got a call 4 days later that a paddler from Atlanta found her boat in Dead Man's Pool. Where it had spent the last four days was beyond me.
Lang, Becker & Lewis left to run the Blackwater in WV at 3.3' on the Davis gage on Monday. Lewis reports "The level was definitely on the high side. It was an awesome run, almost as exciting as the Tallulah (but without as much gradient). It was one long rapid with small downstream flowing eddies. No swims, but a few rolls in critical spots. We all walked Crackatoa, the first main rapid because of a river wide keeper. I walked the falls, but Becker & Lang found enough water to run it (it is rarely runnable).The rapid just after Rock & Roll and just above the Slide was tough. I got spun around in the first drop and ran the 2nd drop backwards. I subsequently flipped. Due to its constant nature, the river seemed to never end, no rest for the weary."
Ron and Matt headed over to do the Green Narrows with a few NC friends. I heard they had good runs at 100% dam release.
Later in the week they headed up to the New river and Sue bought a used RPM kayak. They paddled the New at several different water levels.
The rest of the group decided that since there was no water in the Obed-Emory system or the Big South Fork, that we would head up to paddle in WV.
On Tue, Mike, Brent and Terry ran the New River at 1'. The rest of us took off for a non-paddling day. On Wed. the seven remaining paddlers along with a couple we met from NY (Steve & Deb O'Keefe) paddled the New at 2'. It was a fun level. Water levels were now falling fast in WV, we decided to go up to the Cheat. Mike went home and eight of us ran the Cheat at 2.5'. Big Nasty looked too nasty for anyone to play in. Elliott convinced Steve & Deb to join the club.
On Friday our plans were to do the Upper Yough. I checked with Roger at Precision Rafting who informed me that the Mon/Fri releases do not start until 4/15 and the water was a little too low for a fun run. We decided to paddle the Lower Yough which was running at just over 3'. The rain started to fall in buckets by the time we got to the river. We put on early and were off by Lunch time. The river crested at 11' that night. Most of us planned to be home by the weekend so water or not we said goodbye to our fun week of paddling. We all enjoyed the early season warm weather.
Next year Easter will be three weeks later, it should really be nice by then.
Link to Matt's version of trip.
Participants
Adams, Barry

Becker, Dave

Bethea, Erin

Boyce, Bob

Carey, Wayne

Debalski, Scott

Drysdale, Elliott

Duvall, Mike

Gross, Keith

Hammond, Rob

Hammond, Dave

Hopkins, Matt

Kobak, John

Lang, Paul & JoAnn

Laubaugh, Brent

Lewis, Greg

Markoff, Terry

Muir, Matt

Reames, Syd

Schmidt, Shelly

Singer, Chuck

Strumbel, Sue

Tomallo, Ron

Thompson, Luke

Thompson, Charlene

Teague, Rick

Whitney, Ron