Mexico 2000
By John Kobak
Mexican Trip Photo Album Click on pictures in story for bigger photo
The group slowly gathered around to see what had happened. Syd lay on his back in the cool water telling us he has lost the feeling in the lower part of his body as a result of his jump off the high waterfall into the deep pool below. But wait, I'm getting ahead of the story. Let me start from the beginning of our exciting winter in Mexico.
It's great to be retired and to be able to get out of Cleveland for the winter. My wife Peggy and Chuck Singer decided that this year we would winter in Mexico. We always like to paddle with club members so we set up a 10-day paddling trip. Calleva Outdoors provided the kayaks, shuttles and leadership for the trip. As usual the logistics of getting everyone to the rivers is a story in itself. We drove our motor home to Houston to pickup Rich Priem. Chuck started his trip early by flying to Cuba, hopefully he has a story of that trip portion. Chuck flew back from Cuba via Cancun and Houston where he joined us.
I have been to Mexico three others times but never did a river trip. I always felt the rivers in Mexico were a little too dirty, Bruce Berman, our intrepid guide, proved me wrong. The rivers we ran were mostly spring fed turquoise water and flowed over beautiful travertine waterfalls. The trip was planned to be a little easier than last year's Ecuador trip. Paddling centered around two different areas of the eastern Sierra Madre mountains. The first area was near Jalapa just west of Vera Cruz and the second area was situated near Ciudad Valles which is west of Tampico.
On our way South we stopped in Tampico to pickup Judi Cleary who wanted to stretch her trip into a full 2 weeks. We now had 5 travelling in my RV built for three, so Chuck & Judi used a tent. We decided to enjoy the beaches of the Emerald Coast, a resort area just north of Vera Cruz. The coastal road was in terrible shape and several bridges were washed out from last August's floods. This was our second visit to these beaches, I don't know if it's us or if January is not a good time to visit. The weather was cold and drizzly and the large waves made enjoying the beach out of the question. We did a little biking but decided to leave a day early and drive to Jalapa which is the capital of the state of Vera Cruz. We enjoyed the large anthropological museum and the warm sunny weather. We got to Carrizal Hot Springs one day early.
The Keelhauler paddling team, consisting of Bill Miller, Cathy Needham, Elliott Drysdale, Bob Boyce, Syd Reames, Vicki Windisch would not arrive with Bruce until after midnight So Rich and I did another long bike ride paralleling the Rio Pescados. We were disappointed in what we saw, class 2 rapids and fairly dirty water. Our worries were for naught, this was not on the trip schedule. The campground and cabins are located in a well developed hot springs park. Two fairly good restaurants and a relaxing soak in the hot springs finally got us to kick back and relax.
The next morning we all got together, got the kayaks outfitted and set out for our first adventure on the Rio Actopan. After a fairly short drive on reasonably good road we arrived at the putin which had crystal clear water gushing out of a canyon spring into a delightful Class II-III stream. This is a gem however I took one look at the falls and decided not to test my recently repaired broken collar bone.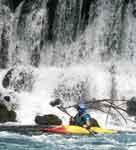 Actopan Falls
However our guides along with Elliott made it look easy. The river was cool but a great start to our winter trip. An easy way for everyone to get back their paddling skills after an inactive Fall. There was no more rain for the rest of the trip and the weather kept getting warmer each day.
The next day, we had planned to run the Baranca Grande Section of the Rio Pescados. The section was much farther upstream and much cleaner than the lower river, however the road was too rough for the van and we could not find a truck to take us to the putin. We decided instead to run the section below the Baranca Grande section, which had good access roads. The rapids were good class III+ but the river was a little dirty. This section was still clean by Mexican standards but it was the dirtiest of our trip.
We drove to Jalapa and stayed in a downtown hotel that night. The next day we all shopped, went site seeing or used the Internet services to write back home. We had little trouble finding Internet access anywhere in Mexico. Even in the smallest beach towns. However the cost varied greatly from $1 per hour to a $1 per minute, depending on whether the provider was a local or long distance call.
We drove to the hardscrabble mountain town of Altatonga. The hotel's doors were a short 5' 8", Syd & Elliott had a few head knocks. Since we were to end up the next day in Tlapocoyan, Peggy and I took the motor home there that night with Bruce as our guide. This was one of the worst roads in Mexico and found us on a dark, rainy, chuck-holed mountain road. Not my favorite drive. Bruce & I caught the bus back in the morning in time to meet the group loading into the back of a truck for a two hour ride to the Alto Bobos.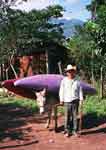 Burro takes kayaks to the river.
This 8-mile class 3-4 section is accessed by way of a precipitous trail from the village above; it was a 45-minute carry for us, Bob Boyce insisted that he could do the hike with his canes. A burro carried his kayak and in the 2-hour hike he wore out the rubber tips of his canes.
Syd & Elliott started 7 mi. further upstream on a tougher section, which included a large waterfall, which they portaged. Syd's bad luck started. While scouting the rapid he fell into the water and had to be rescued by Elliott who found he only had half a throw rope. Mice had chewed out a section. They paddled so fast for the rest of the trip that they passed our group and finished before we did.
Tlapocoyan is a very pretty, prosperous looking town, however the town square (zocalo) looked like a scene from The Birds. Each morning and night the Grackles gathered in such large numbers that the racket would wake us up.
The next day we would spend driving north to Ciudad Valles, the base for the rest of the paddling trip. We followed the group with our motor home. They knew of a route that would be shorter and we could visit the Mayan ruins of El Tajin while avoiding the bad roads along the coast. What they didn't know was that there were some bridges out along the shortcut.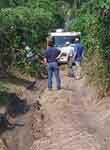 Tough going for Motor Home.
They discussed the bridge detour with a road crew and waved us to follow. I figured this was a short bypass around the bridge. Pretty soon we found ourselves heading out though farm pastures on a dirt road, we opened and closed pasture gates and watched the farmers shake their heads in amazement and mumble something in Spanish that sounded like, "You'll never make it".
Pretty soon we had our RV wedged between small trees and bushes. We had to saw off limbs to get through. We were bogged down in axle deep mud, tearing off our steps and the back of our black water holding tank. After about 50 more yards we go to a bridge that looked like it would not hold my 6 ton motor home. The guides attempted to drive the van/trailer combination across. The bridge dropoff was so large that they ripped the hitch ball right off the van leaving the trailer on one side and the van on the other. Well for us the decision was easy, turn around and struggle back to the main road and then go back to the bad coastal road. We skipped El Tajin so we still could make it by 11pm that night. They got the hitch ball welded and continued on with no problems other than the loss of lights on the trailer. They still stopped to visit the ruins at Tajin and got to the hotel at 1 am. What a day!
Today was to be a short run on Micos Section of the El Salto. This is travertine country, with ledge after ledge of fun waterfalls into frothy easy water.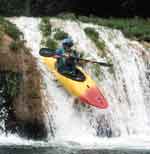 John on the Micos
This is a very special place. Only pictures can really describe it. We would then continue down an exceptionally beautiful jungle run below the waterfalls with many small ledges. The carry in was on a narrow trail dropping down into the gorge. At the bottom we were looking up at an 80' waterfall. As we prepared to launch from the turquoise pool, two guides along with Syd Reames decided to climb up to a ledge along the waterfall and jump into the deep pool below.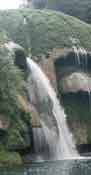 Syd making the Big Jump.
The two guides jumped with no problem but Syd must have hit wrong and instantly felt the loss of use of his legs. We figured he most likely had some type of back injury and the best thing to do would be to keep him on his back in the cool water until an ambulance could come with a backboard. We were a long way from a phone and the city. It must have taken an hour and a half for help to reach Syd. After assisting him onto the backboard the group carried him up the hill to the waiting ambulance. The rest of us decided at this point we would complete the trip and Alex and Ricardo (Bruce's friend from Mexico city) would accompany him since they could both speak Spanish and would see to it that he got the proper medical assistance.
The doctor at the clinic, after discussions with doctors from Houston, decided it would be best to get him back to USA as fast as possible. Tania, Syd's wife, made arrangments for a Learjet to fly in to a nearby airport. In 24 hrs they had him at Houston's Herman Hospital. They stabilized him and in a few days they decided to do major surgery. It took over 8-hours for the 24-person team to go in under his rib cage to clean out bone fragments on the front side of the L1 vertebrae. They then did a bone graft from a cadaver. Then they flipped him over and inserted a Titanium rod and plate on the back for stability. Syd then spent the next month recovering and doing physical therapy in Houston. He is now back in Valdosta where he is walking with a cane but will continue to wear a body brace until mid May. At that time his upper body therapy can start. We ask everyone to say a prayer for his speedy recovery.
Syd's accident cast a pall over the rest of the trip but we decided to finish the trip.
The next day we ran a 6 mi. stretch of Rio Tampaón It is a narrow limestone canyon, class III, with unusual rock formations. The river is deep with straightforward rapids. At one point the river disappears underground and reappears 50 yds. down stream.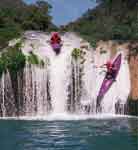 Look again it's Double Rich.
Our last full paddling day found us on the beautiful 3-mi. section of the El Salto. There were waterfalls from 3 ft to 25 ft and Class IV rapids. This is travertine country with ledge after ledge of fun waterfalls. This is a more advanced run than the Micos though there are still plenty of sneak routes to allow intermediate paddlers to enjoy the rivers.

Shredding the El Salto Falls.
On Friday, the group went back to run the travertine falls section of the Micos. I stayed back at the hotel to repair the motor home so we could make the rest of our trip. It was a fun paddling trip and everyone left for Tampico that evening.
Chuck, Peggy and I continued on our tour of Mexico for 3 more weeks. Some of the touring highlights were; we loved the three little beach towns of Melanque and Sayulita and Kino Bay on the West Coast of Mexico. The beaches were clean and deserted and the campgrounds had great hot showers. Peggy enjoyed shopping for arts and crafts in Dolores Hidalgo and Tlaquepaque.
The highlight of this portion of our trip was our 3 day trip by 9 hr train ride to Copper Canyon. They claim it is bigger and deeper than the Grand Canyon. Well Chuck & I know the GC and it was no GC. Views of the deep canyon from the train are limited. The town of Creel is a good base for exploring other sites and missions. The most interesting aspect was the Tarahumaras Indians who are expert at weaving baskets and running long distances in this high altitude country.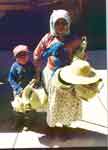 Please Buy a basket.
You can get to Creel by car or RV if you approach from the east, but the train is the only access from the west coast. The train ride is expensive but it was a unique once in a lifetime experience.
Whenever we travel south of the border I always get the same questions. Aren't you afraid of banditos, won't you get some bad disease, is it safe. Well I feel much safer in most places in Mexico than I do in the US. Of course in large cities in either country there is always petty crime. In the small towns of Mexico people are friendly and helpful. It is good to learn some Spanish so you can communicate in restaurants, hotels and read road signs. If you stick with bottled water and eat well cooked food you should have no other problems. I don't recall anyone getting very sick on our trip. Mexico is rapidly becoming a modern country although things are not as cheap as they used to be. Gasoline was $2 per gallon and imports were expensive.
We visited Syd in the Houston rehab center on our way home and found him in good spirits with a positive outlook hoping for a full recovery.
Chuck will show slides at our club's May 9th meeting on Cuba and our Mexican trip.
Some Internet Links & Info;