Keel-Haulers 2018 Vermilion River Race
Vermilion River Race Postponed until 4/8/18
50th annual
Revised: 03/24/2018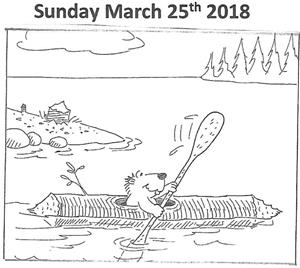 Click picture for copy of Dean Norman's poster.
April 8th; 50th Annual Vermilion River Race, OH
Vermilion Race POSTPONED to 4/8
This is the club's 50th annual race, one of the oldest in the US. The rapids are an easy class I , and the race is appropriate for novice to expert racers as well as recreational and sea kayaks. We encourage families and small groups who want to race together. This race is a great opportunity to shake the cobs off your muscles and get ready for the paddling season.
Please check Rules & Application for change in classes and rules.
We have added a new class for Stand Up Paddle Boarders
Be sure your Ohio boat registration is up-to-date.
Water level is critical, the race will only be held on this section of the river if the USGS Gauge is between 2.8 to 6 feet. If it's too low, the race will be moved downstream to start and finish at the South Street Boat Launch Ramp on West River road in Vermilion. If it's too high it will be scheduled for April 8, 2018
Jon Reising - Race Chairman . . . . . . . mnmsguy@yahoo.com . . . . . . . . . . . 440-967-9507
---
2018 Race Rules/Map, Application and Waiver are in PDF format

Vermilion Race 2018 Rules and Map (PDF)

Vermilion Race 2018 Application (PDF)

Keel-Hauler club members get a $2 discount per person - Join the club first to take advantage of this offer.

Vermilion Race 2018 Waiver (PDF)
---
On-Line Registration - Pay using Paypal or a credit card
---
If you do not have an up to date Acrobat Reader yet, you can download one free from this site.


---

2018 Vermilion Race Results - - 2018 Race Pictures

2017 Vermilion Race Results - - 2017 Race Pictures
2016 Vermilion Race Results - - 2016 Race Pictures
2015 Vermilion Race Results
2014 Vermilion Race Results - - 2014 Race Pictures
2013 Vermilion Race Results
2012 Vermilion Race Results - - 2012 Race Pictures
2011 Vermilion Race Results
2010 Vermilion Race Results
2009 Vermilion Race Results
2008 Vermilion Race Results - - 2008 Race Pictures
2007 Vermilion Race Results
2006 Vermilion Race Results
2005 Vermilion Race Results
2004 Vermilion Race Results
2003 Vermilion Race Results
2002 Vermilion Race Results
2001 Vermilion Race Results
2000 Vermilion Race Results
1999 Vermilion Race Results
1998 Vermilion Race Results
1997 Vermilion Race Results
1996 Vermilion Race Results
1995 Vermilion Race Results
1994 Vermilion Race Results
1993 Vermilion Race Results

---
---