View map of our Probable Mexico Route & Schedule Map can be zoomed to different areas and printed.
---
We took a new route into outskirts of Acapulco to shop at a Super Wal-Mart store and stock up on some food items. It is close to the start of the bypass around the city. It is much longer but tolls were only $6 and there was no traffic except for last few miles before the Pie de la Cuesta campgrounds. It was far better than going through the city and tangling with all the buses and taxis. We stayed at Acapulco Campground which was nice, clean, on the beach but expensive at $30/night. One night here cost the same as 5 nights at Playa Ventura.
We decided to take a local bus into town which cost less than $1 round trip. We walked the Malecon (Ocean front walk), did some shopping and went to the big mercado. When we jumped on the bus to come back, he cut in front of another bus and got into a slight fender bender but they argued, tied up traffic and everybody got off and caught the next bus back.
We left early on Tue morning for a 5 hour drive to Ixtapa, and it's only about 130 miles. We lost Thury along the way and found out later that he blew a tire and had to buy a replacement. So he got there 3 hours later, luckily we started at 7 AM.



Playa Linda beach hotels- Pan to see entire view near campground.
The free campground is still here at Playa Linda but it may be gone next year as a new Government campground is nearing completion about a mile further down the beach. Our free campground is next to a little stream that is dammed up by the beach. It is full of birds and Crocodiles. There are hundreds of Egrets, Cormorants, Spoonbills and Ibis just a few feet behind our camper. The crocodiles ocasionally eat the birds. And occasionally they sneak under the fence and lay right behind our RV, a little spooky, I wouldn't want to step out our door in the dark. The ocean beach out front is crowded with Pelicans, Frigate birds and of course Sea Gulls.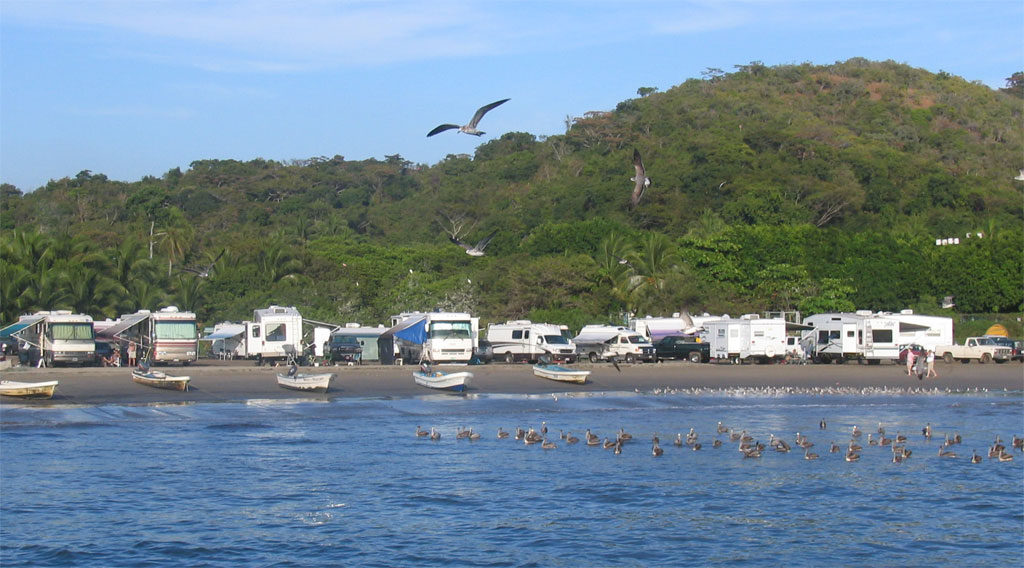 Beach Camp - Pan to see entire view.
There are great paved bike trails, a nice flat beach to walk on and a lot of activiity to view. This is the main jumping off point for boat trips to Isla Ixtapa which has 20 beach restaurants and has snorkling areas. So all day long people walk past heading for the boats or to see the iguanas, crocodiles and bird life.
| | |
| --- | --- |
| Nice sunset over Isla Ixtapa | Water behind our camper, a croc resting near the birds |
It only takes me 10 min to paddle to the island and another 35 minutes to paddle all the way around. A nice way top enjoy the 81oF water and 90o days. Nights are still cool but we are very close again to a loud Disco that fires up at 9 PM and plays to about 2 AM. Earplugs help a little.
| | |
| --- | --- |
| Snowy Egret | Roseate Spoonbill |
Our plans are flexible but we will stay here for a while unless conditions change. We went by bus to the old town of Zihuatanejo to shop and go out to dinner. We heard that the campgrounds may get more crowded as we head North so we will stay here a little while longer.
Oh well things change, first of all, this was Constitution day week-end, similar to our 4th of July. Thousands of Mexicans showed up on Sunday and used our campground as a parking lot, luckily it only lasted one day. Then on Monday afternoon a 24 unit Caravan of campers from Quebec arrive and pull into our already full camp and announce that they will all fit even if they have to take over every available open area that the fisherman and boatman utilize. So early Tuesday morning we leave for Maruata, which is a small beach town about 150 mi up the coast.
| | | |
| --- | --- | --- |
| Camping at Maruata | Water Caves | Vultures waiting for fisherman |

This is our first time here, one other van camper and lots of tent campers are here in palapas or ramadas that line the beach. Each one is owned by different folks so you need to make sure you pay the right person to use their area, In our maneuvering around on the soft sand we managed to get stuck and rip off our mud flaps. We get pushed out by the friendly young people hanging out on the beach. I re-installed them with no problem. One of the best things besides the great views, no crowds and great weather was Lupe. She runs the little bakery where we camped and makes the world's best cinnamon rolls.



Maruata Bay Camp - Pan to see entire view.
| | | |
| --- | --- | --- |
| Lupe Making Cinnamon Rolls | View East | View West |
We liked it so well here that we stayed 5 nights. We leave early Sunday morning to shop in Manzanillo before trying to find a place to camp in Melaque.
| | |
| --- | --- |
| View of East Maruata Beach | View South West Maruata |
Continue to Chapter 4
---
More Chapters: Back to Chapter 1 - Back to Chapter 2 - Chapter 4
---