Mexico 2005 - Page 3
Go back to Mexico 2005 - Page 1
Go back to Mexico 2005 - Page 2
Life slows down on the Mexican Beaches
While in Huatulco we enjoyed all the beach walking, bike riding, bird watching and trips to the little town of La Crucecita to shop at their market. The camp was usually quite empty but it filled up with a caravan tour for four days. Nice people at the camp, however 95% are from either British Columbia or Quebec. They are usually surprised to see people from the USA.
Finally on Thursday after spending 9 days in Huatulco, we headed to Puerto Angel. We were told that the campground was right on Zipolite beach as opposed to behind a small group of trees as in Huatulco. Well they were almost right. A big palapa still sat between us and the beach.

Scroll to see entire view of Zipolite Beach, campground is on the far right behind the palapas
The place was very tiny and contained mostly small Volkswagen campers. Luckily two people were leaving when we arrived, so we were able to fit in nicely. Most of the people here are backpackers who just rent a hammock in the palapas along the beach.

The interesting thing about the beautiful one mile long beach is that it the only place in all of Mexico that tolerates nudity. Mostly men but a few women congregate down near one end and frolic in the large surfing waves. We just looked the other way so they really didn't bother us. The waves here are pretty big and break close to shore, so boogie boards and body surfing was popular. I was afraid to try my kayak since I figured I couldn't duck underneath the waves like the surfers when going out and I would come surfing back in backwards. The weather since the mountains hasn't varied much, low 69o and high in mid 80's with sunny skies.
On Super Bowl Sunday, we could have watched the game in a little bar but since New England was playing again we chose to skip it this year. We really like having solar arrays on the top of our RV. The last two places we stayed in did not have electricity but with all the sun, we had no problems keeping our batteries fully charged. We run the generator only for the microwave or toaster. We have cooked our own meals for a month and still have food in our freezer left from the states. We buy the fresh fruit & vegetables, which are very good and inexpensive. We went out to eat in a really nice restaurant in town for a couple of meals. Peggy had shrimp, rice, fries and avocado salad and I had the fish with same side dishes. The cost with beer and tip came to a whopping $11 US dollars. Food was really good and well prepared. My kind of place.

On Monday we headed North from Puerto Angel toward Acapulco. It is only 300 mi to Acapulco but it was a slow curvy drive, so we decided to stop about 3/4 of the way. We noticed that they had paved a nice 4 mi road to the little beach town of Playa Ventura. The town is so small that they do not have phone service yet, but they do have two miles of beautiful beach with lots of little restaurants and several small hotels. They all allowed camping in their parking lots.
#1 RV next to Restaurant

#2 Peggy on Playa Ventura Beach

#3 Sunset from Rv
We stayed at Restaurant-Cabana Perez run by a Mexican that had lived in the states so that he spoke very good English. We camped by his outdoor restaurant on the beach which had a nice palapa to hang my hammock. During the 4 days we spent here only one other couple showed up to camp for two nights. The beach was deserted except for some fisherman. We got the RV cleaned up from all the road oil and dust along the way.

On Friday, 2/11 we decided to head to a campground North of Acapulco on a spit of land called "Pie de la Cuesta". The highway goes right into the big city and Peggy thought it would be good to drive in and do some serious food shopping. First bad thing that happened was, someone throws a stone and cracks my windshield. The cracks keep propagating all over as I drive. Then, in the heart of the city with buses and cabs all around me I get stopped by a policeman who claims that I ran a red light and need to pay a $400 fine. After much negotiating he agrees to accept a $20 bribe. This is a common occurrence in big Mexican towns. They supplement their low wages, which are about $20 per day, before the la mordida (the bite).
We shop at a Sam's Club but cannot find the Super Wal-Mart. So we finally head to the campground. We got a nice spot on the beach but since this was the most expensive camp that we have stayed in, we only stayed here two night before moving further West. Yes, ever since we hit the Pacific coast we have been heading West, this part of Mexico curves so that the Pacific Ocean is on the South coast, see Map of our Trip. We found out that we could have taken a bypass around Acapulco and avoided most of our problems. For only 4 pesos each (about 35 cents) we caught a bus from our campground to town and found a big super market and Mercado for fresh vegetables. Learned a good lesson.
We continued our Northwest trek along the coast, about 3 hours drive to Zihuatanejo/Ixtapa. Ziwat is the original old city and Ixtapa is the new resort area that was built for the tourists like Huatulco & Cancun. We had stayed in Ziwat 9 years ago and although the town and beach were nice we hadn't found any nice camps near the beach. From discussions with other campers we found out that there is a really great place to stay on the beach on the far end of Ixtapa called Playa Linda. We got here on Sunday morning and found that the entry parking lot was crowded with tourist buses. It seems like the really popular thing to do on weekends is to take a bus tour to this area, catch a small boat out to the offshore, Isla Ixtapa, which is packed with little beach restaurants. By nightfall all the people were gone.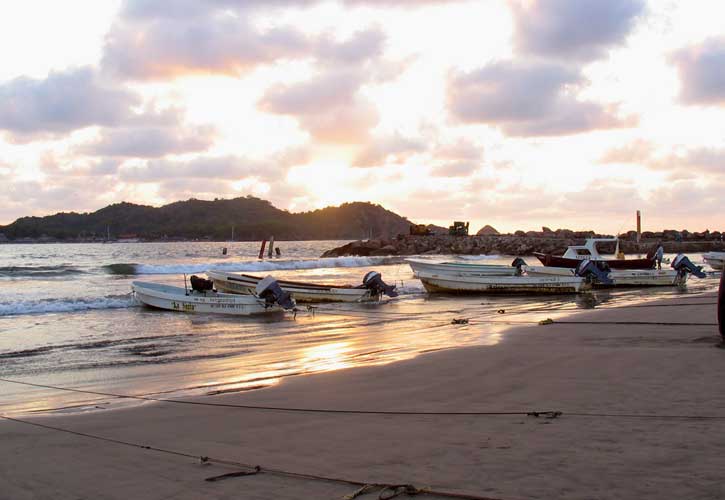 View from our campsite at sunset.

Scroll to see entire Isla Ixtapa, directly across from our campsite
This turned out to be a really great campground. You camped for free, right on the beach, there was a local bus that could take you into Ziwat for only 8 pesos to shop at a nice Mercado. There is a 10' wide, paved, 5 mi long bike trail that goes along a Crocodile filled Lagoon to the center of Ixtapa and avoids all the hills along the coast. The road only goes about a mile more along the coast before dead ending. There is a small town off this road with Internet service. It is easy to launch my kayak from the beach and paddle by all the big all-inclusive hotels.

Scroll to see the hotels on the beach next to our campsite
To be continued.
Mexico 2004 Report - West Coast
Mexico 2000 Report - Kayak Trip